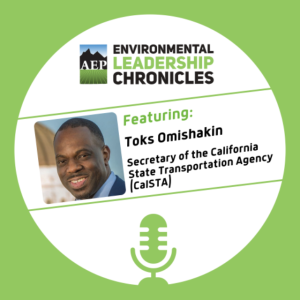 Tuesday Apr 05, 2022
Planning for the Future of California Transportation, ft. Toks Omishakin, Secretary of the California State Transportation Agency (CalSTA)
In this episode, we have a special guest co-host Neil Peacock, who interviews a key leadership figure in the transportation industry. Neil is President of the Superior California Chapter of AEP and serves as a Senior Environmental Planner with California Department of Transportation (CalTrans).
Our featured guest is Toks Omishakin, who currently serves as Secretary of the California State Transportation Agency and recently served as Director of Caltrans, where he oversaw a $17 billion transportation budget and supported nearly 22,000 employees across 12 Districts that serve the entire State Highway System and its partnering networks.
Secretary Omishakin's leadership vision for the State's transportation system focuses on providing a safe, equitable, sustainable, and multimodal transportation system that builds on strong local partnerships and advances the foundational principles of safety, equity, and climate action.
Toks champions an organizational culture of transformative innovation and intelligent risk-taking that will be needed to achieve zero traffic deaths and reduce Green House Emissions from the transportation sector by 40% by 2030.
Before coming to California, Toks served with Tennessee Department of Transportation where he successfully established a number of environmental and transportation planning policies across a number of Divisions. Prior to that, he served as Director of Healthy Living Initiatives in the Mayor's Office for the City of Nashville, Tennessee where he helped establish a more balanced approach to transportation planning and roadway design.
In addition to these leadership roles, Mr. Omishakin is Chair of the Council on Active Transportation for the American Association of State Highway and Transportation Officials and serves on the Board of several non-profit and academic institutions.
Comments (0)
To leave or reply to comments, please download free Podbean or